Wednesday Feb 5
7 am - 5pm
First let me just mention that the time on Grand Turk was a huge reason why I booked this itinerary. Most of the GT cruises are 5 days with 3 islands instead of 2 which means you usually have significantly less time in port. The Victory itinerary that is 5 days with stops at Nassau, Half Moon Cay and Grand Turk give you 7-2 on the island as do a lot of the 7 day cruises with stops there. We arent early risers usually so I really liked the longer stop. As it turned out, both port days we made a huge effort to be up early to make the most of our time in port.
Grand Turk quickly became one of our favorite ports thus far. The island is absolutely beautiful and the beach being literally feet away from the dock is ideal. As mentioned we were up early. I went ahead out to the secret deck to take pictures of us coming into port and was greeted with a beautiful sunrise. I went back to the room to get ready and wait for our breakfast to be brought up by room service. This really is handy on port days. The lido deck can be quite busy and it is a little stressful at times. You also can eat in the MDR for breakfast on port days until about 9:30.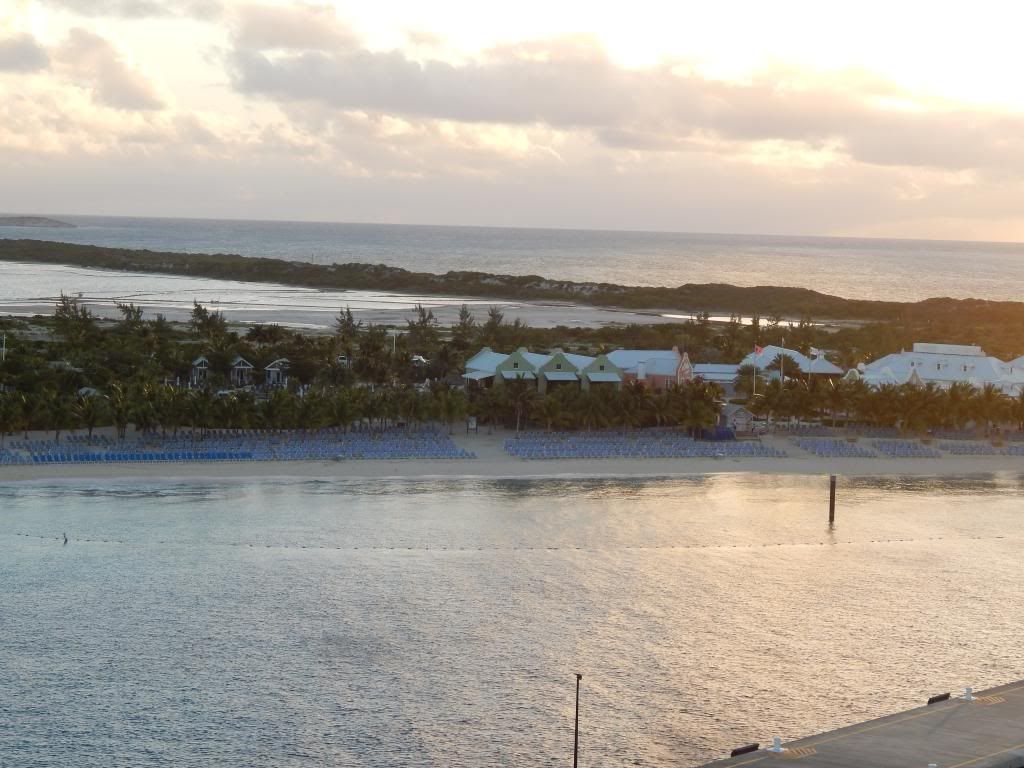 We ate and then headed down to deck 3 for our day in Grand Turk. You walk through the duty free shop and come out into a cute little market place with a small number of your typical stores. This is something that I think Grand Turk could have more of but it does give the island more of a quant feeling. They have a couple of jewelry stores, a Ron Jon, Piranha Joe's, a few other t shirt shops and then there is Margaritaville. This is the major point of the cruise center. We walked through and grabbed a couple of drinks.
If you prefer to not stop for drinks at the bar or a bite to eat, keep walking past the amazing pool area, cabanas, and flow rider and you are at the beach. The beach has tons of loungers for you to choose from and you are greeted but the prettiest water and a view of your ship docked. It is great. Of course, as with most islands, there are locals walking around offering tours, getting your hair braided, etc. They are all very friendly and a simple no thank you is understood and off they go.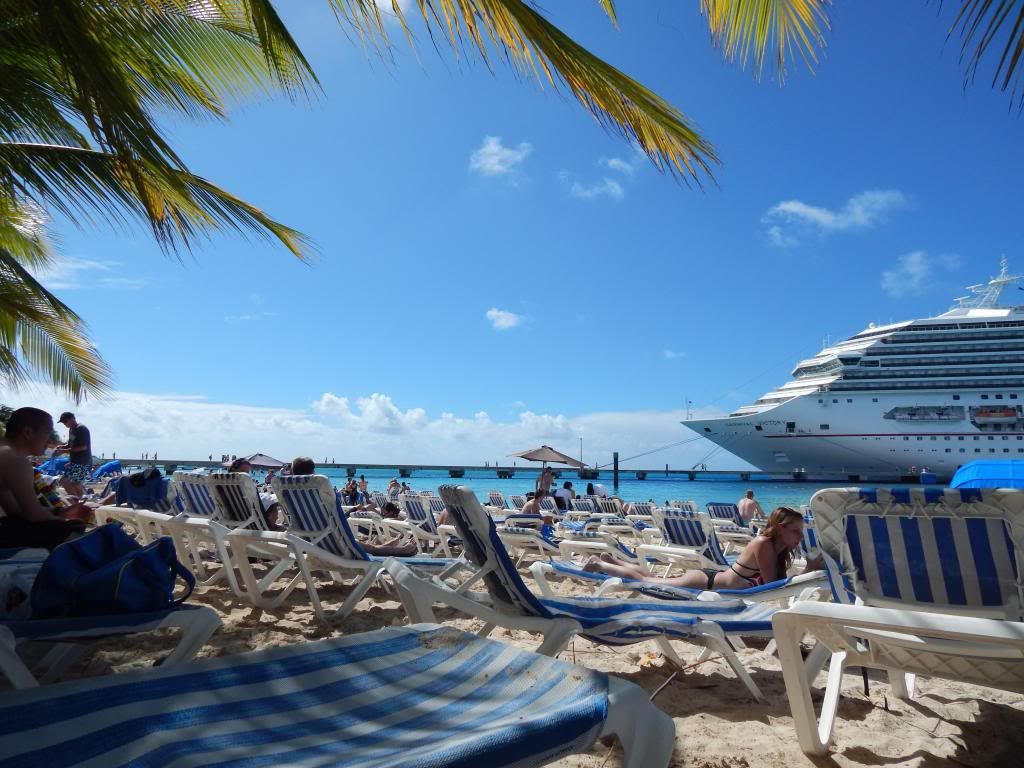 The beach area right off of Margaritaville is nice but as you walk in the water it is a bit rocky at first so you may want to bring some water shoes. I swam over these parts but was thankful to the other swimmers who warned me. You can see the rocky areas since the water is so clear so just be careful.
We were lucky to have wonderful weather on this trip. It rained hard for a couple of minutes in the morning and once again in the afternoon but the sun came right back out. It was about 85 degrees and there was a nice breeze. Perfect day for laying under a palm tree in the Caribbean.
We went back into the port area to shop and head on board for lunch. The prices on GT are easily the most expensive we have ever come across for basic items like shirts and shot glasses. Once we had our burger/ hot dogs etc we went back to the island to explore a little. We walked around to the right of the cruise center where they have some displays from NASA as well as a large whale statue. Whale watching is very big there for certain months of the year. I believe late February leading into march is said to be the best time. We then went back through M'Ville to refill our drinks and headed to the right along the beach to take some pictures.
We saw a couple of horses and some dogs along the way. Grand Turk seems to have many animals roaming about. To the right there were some more small bars and restaurants and what looked like a casino. There were a couple of excursion shops this way as well as an inflatable water park with slides and trampolines. We headed back and relaxed at the beach enjoying our view and not wanting to leave. One last stop at Margaritaville was in order. They had a DJ (maybe one from the ship?) who was playing games and everyone seemed to be enjoying themselves. It is worth it to note that it was very loud and some of the dancing games may not be kid friendly. Margaritaville also offered bathrooms that you could get to from the shopping area as well as from the bar / beach. They were basic but were nice enough.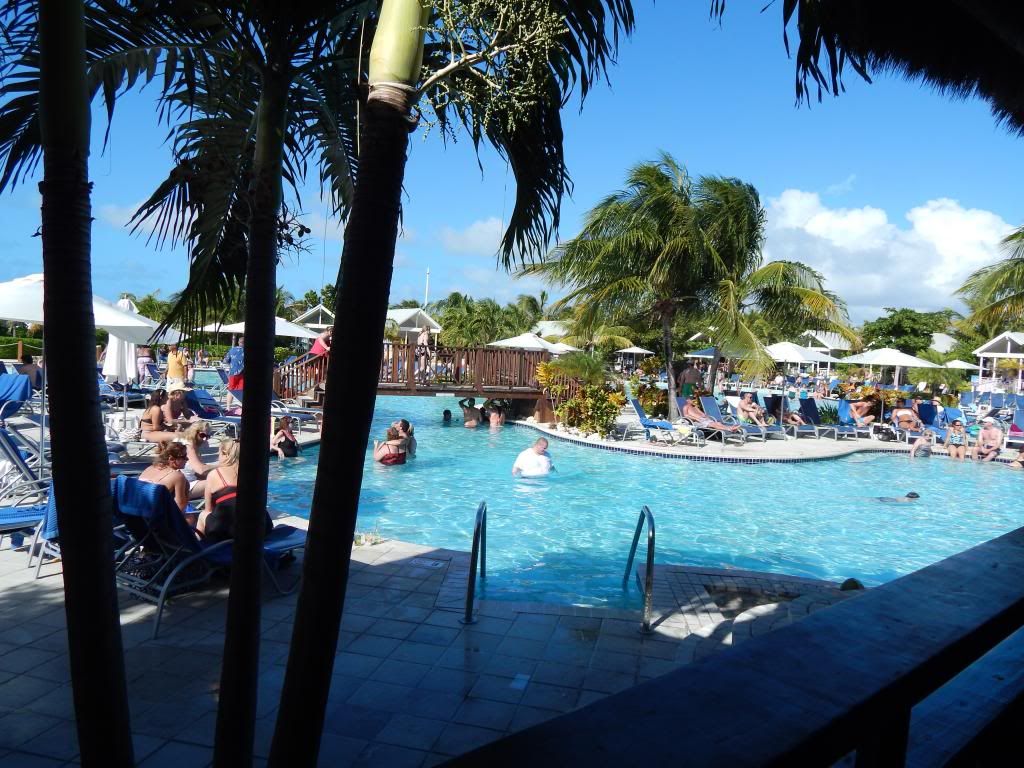 Seriously a beautiful island. If you are considering a cruise that stops here, DO IT. We will definitely be back.
Once back on board we showered and got ready for dinner. We attended the love & marriage show which was hysterical thanks to the oldest couple competing. Afterwards we headed to the Lido for a Caribbean Beach party. They did the typical line dances but also gave out glow sticks and threw out beads. I thought it was pretty fun.