Tuesday Feb 4/ Thursday Feb 6
I really don't like sea days. I love being out on the islands and exploring but the days it takes to get there are boring to me. We like to nap and eat and that about sums up our sea days. There are of course lots of activities during the sea days by the entertainment staff; bingo, hairy chest contests; corn hole. I am sure most people enjoy the extra relaxation.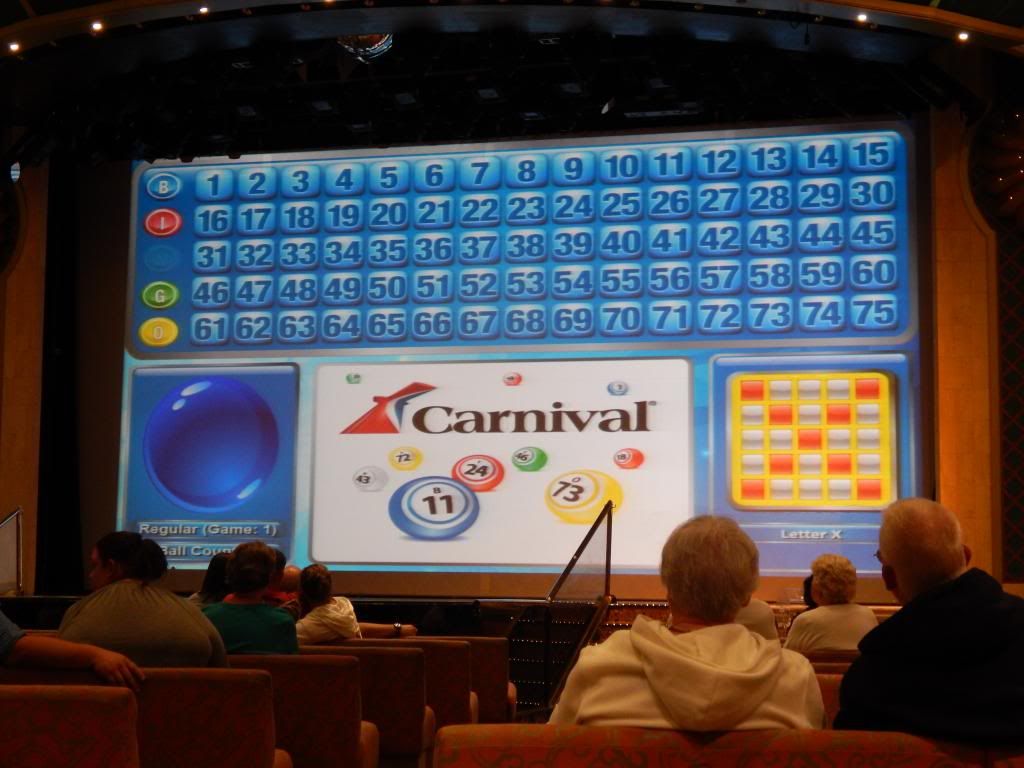 We tried our luck at BINGO on our last night.
So what did we do on our two days at sea? We walked around the ship mostly, spent some time in the casino and laid around on the Serenity deck. I love the serenity area but it can be bothersome how loud the Lido deck really is. With that being said, I did get a nap in both days we were up there. The area was packed for sure but there was still a few places to sit in the early afternoon.
Rain shower in the distance seen from the Serenity Deck.
We also love to spend time in the secret deck area. It is so relaxing. Each cruise, more and more people are then but it is still just a handful. It is so cool to look over and see rain far out and flying fish jumping along with the boat. It is also very convenient for us. I like to book our room on the lido or panorama deck and they have access to the secret decks. Just a short walk down the hall and we are there. It is nice because my boyfriend is a smoker and it is easier to walk out there than down to the casino. They did install newer cigarette trash cans for lack of a better term. They seem to hold them a lot more than the old boxes that were on the Victory the last time.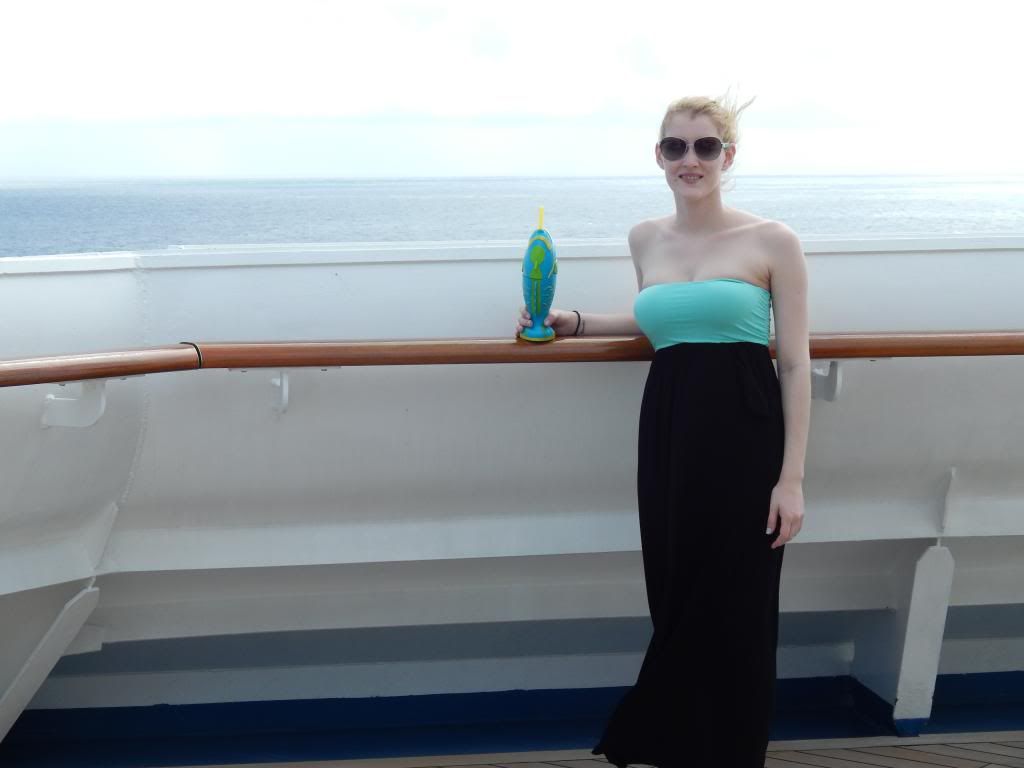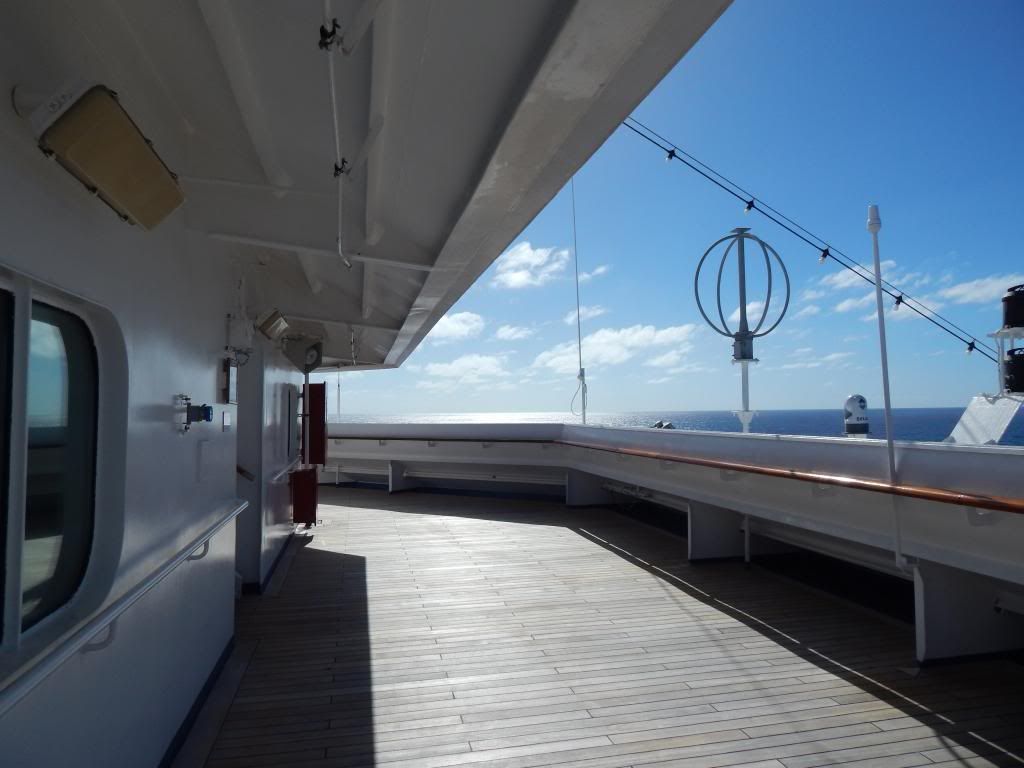 We saw the broadway style show "Vroom" in the Caribbean threatre. This was the first show we have been to out of all our cruises thus far. The talent was definitely there but this show could use some work. It was music related but it seemed that they could use more popular songs for their skits. It was still enjoyable and like I said the singers and dancers are VERY talented.
We saw Jorge Solano, one of the comedians the first night at sea. Unfortunately, we had seen him on our Glory cruise and his material was 95% the same. Disappointing. The second comedian on our cruise, Al Romero, we saw later on in the week. He was hilarious. The comedy lounge was FULL that night with standing room only. Eventually they stopped letting people in.
The casino was hit harder than usual on this cruise. I usually play a little here and there on a couple of penny slots. They have those temping games where it looks soooooo easy to win, cash crane and the one where you have to fit the key exactly into the slot. I got addicted to the pirate game, Blackbeards Bounty, that we had never seen before. You were able to redeem pirate themed playing cards and poker chips with a skull & cross bones for cash. I wish I would have read how little they were worth before I got so into it. There were 7 different cards available. If you got all 7 you could exchange them for $100. The elusive card with the pirate was never seen. Typical but it was still fun. Without the pirate, each card you got was worth a dollar and each of those chips were worth $0.25. Womp womp It was still pretty fun. At the end of the week I cashed in any doubles I had of the cards and brought the rest and the tokens back to my nephew.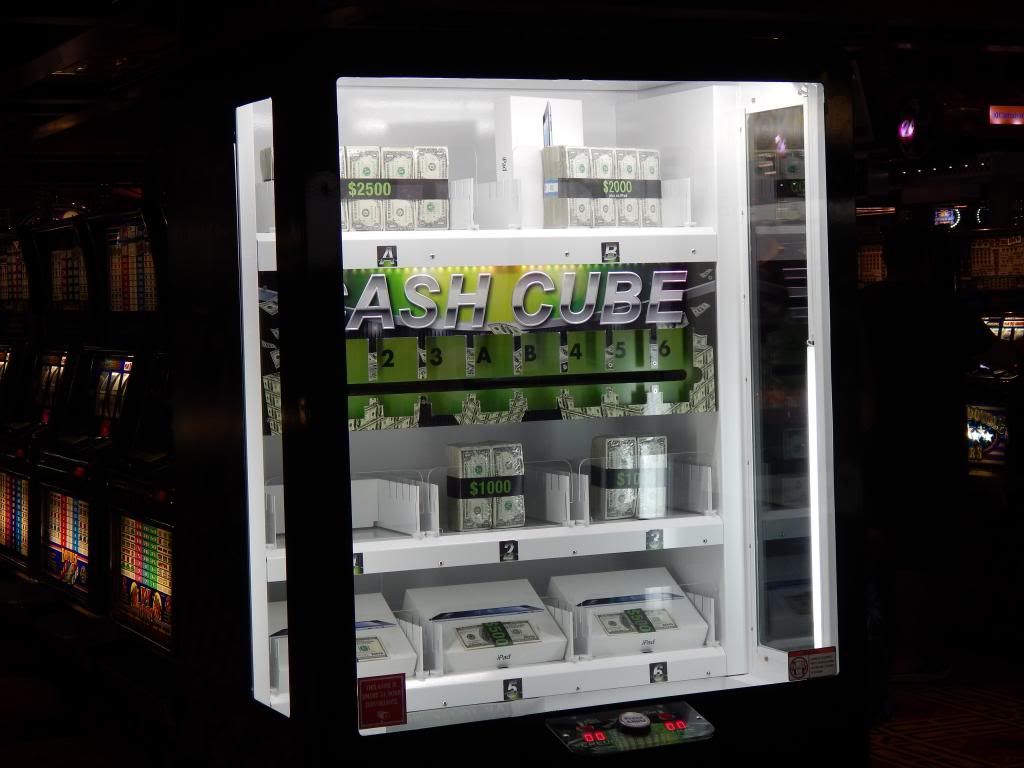 We also played in the arcade. They had some similar games but instead of cash prizes they offered Nintendo DS's, PS Vitas, Go Pro cameras, etc. My boyfriend noticed one of the games offering the PS Vita was pretty close so of course we played. The game was called the Barber shop and the idea was to get the "scissors" (two plastic brackets with a small blade in between) around the twine holding up the prize. The string for the Vita was cut up pretty good so we tried our luck. My boyfriend got pretty close but decided to give up. I convinced him to try twice more and BOOM he won! AWESOME. The box came down and we had to take it to the casino cage to claim. They watch the video to verify you legitimately won and then you sign some paperwork. My boyfriend was pretty excited. We tried for a couple more things throughout the week with no luck but it was fun. They also had a pacman air hockey table that was so much fun. The arcade never seemed busy but we never went during the day so that could be why. Some of the games you redeemed tickets on your sail and sign card and had different vending machine type games where you could redeem them. Unless you had a lot of tickets what you got was pretty much stickers and costume jewelry but I am sure the kids enjoy it.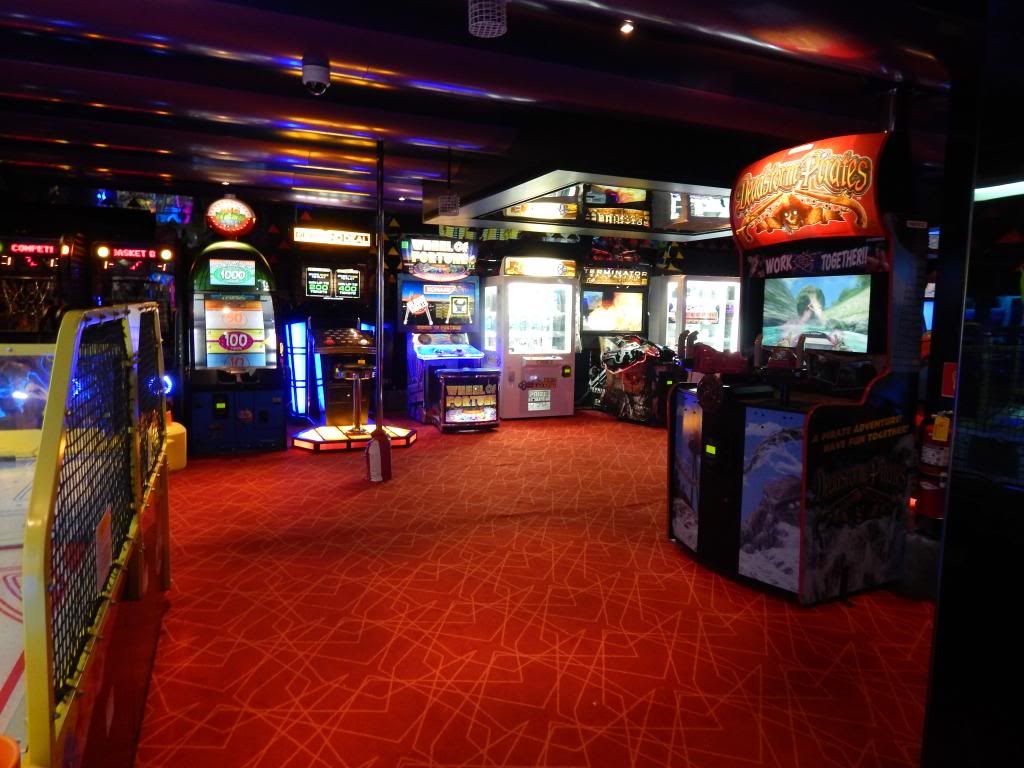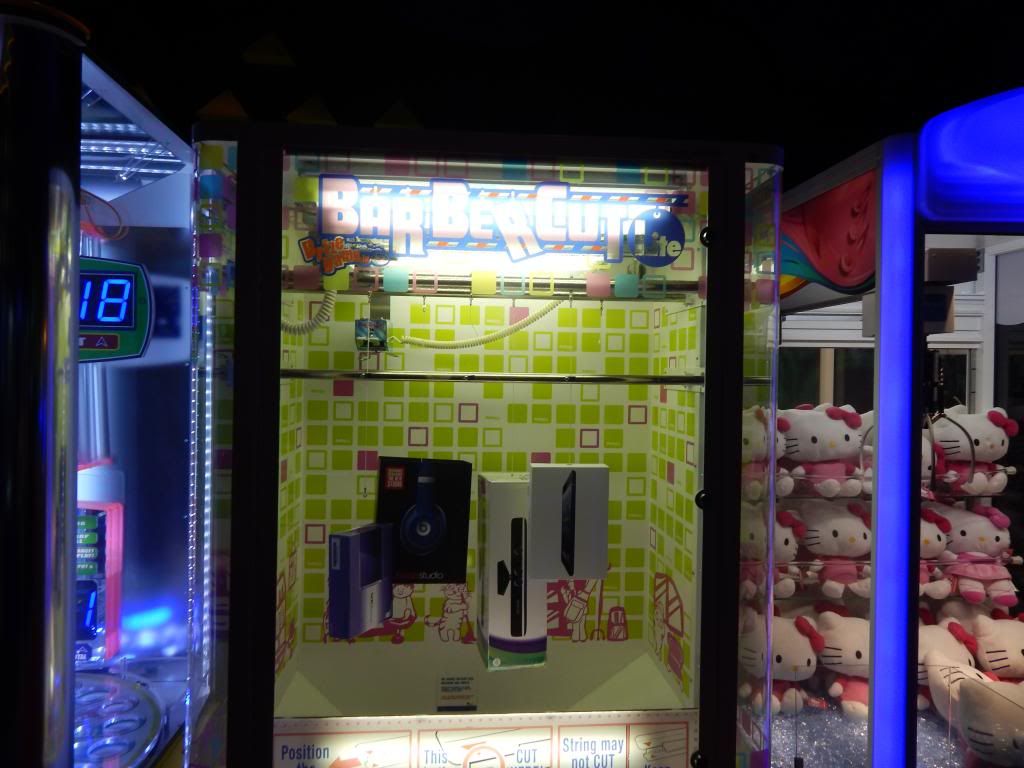 You cant find too many cruises without at least two days at sea so we will just have to get used to it :)