Taking a Run For Fun Cruise(RFFC) gives you the opportunity to run in exciting locations. During the port stops, you also have a chance to explore the places you are visiting either on your own or with a group excursion. Lets take a look at where RFFC can take you in 2015!
RFFC Caribbean February 2015- There is still time to book last minute to take a romantic Valentines Vacation with RFFC! Booking Info found
here
.
The February cruise starts out in Fort Lauderdale which will be a warmer climate for a lot of folks! You have the option of participating in the A1A Marathon which offers a 5K, Half Marathon and Marathon on February 15 (Sunday). Come in a couple of days early, enjoy FLL's nice weather, take the water taxi around to see the sites or head to the beach! Board the Regal Princess on the 15th (after the race) and be on your way to 3 Caribbean ports.
Wake up Feb 16 to Princess Cruise Lines private island, Princess Cays. I have never been to Princess Cays but I have been to RCCLs private island in the Bahamas and boy is it beautiful! It is so peaceful, the beach is plentiful and you can just relax. RFFC has something special planned for you at Princess Cays, take part in the Princess Cays Team Challenge and the Bahama Mama Relay!
With a day at sea under your belt, you will feel refreshed as you take on a 5K along Charlotte Amalie Harbor on Feb 18. Enjoy the rest of your day taking in some of the beautiful beaches that the USVI have to offer. Magen's Bay is often listed as one of the top 10 beaches in the world. Interested in more adventure then relaxation? Try SCUBA Diving! We took a Discover SCUBA class at Coki Beach Dive Club during our visit and had an amazing experience. If you have never seen the world underwater, I highly recommend it!
Take a dive in St. Thomas
On the 19th, sail away to St. Maarten, the smallest two island nation in the world! That's right, you are in for a 2 nation treat with half of the island being French and the other being Dutch! Begin your morning with a 5K or 10K along the beautiful boardwalk. Ready to take on a full day? Visit Maho Beach where you can see the planes landing at SXM airport, a fun family adventure. Visit the French side of the island for lovely shops, cozy little restaurants and fantastic beaches. We spent a day roaming the shopping on the Dutch side ending up at a lovely beach bar and finished our day in some lovely loungers.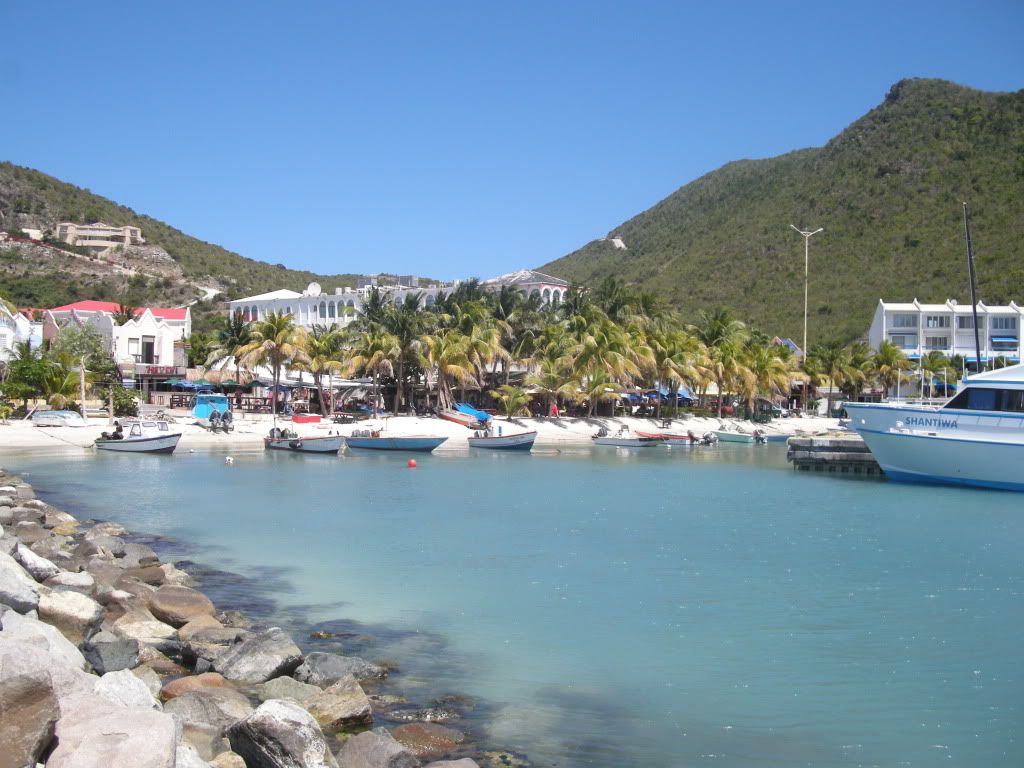 A beach bar along the Board Walk in St. Maarten
RFFC Alaska June 2015- This cruise to Alaska will surely be filled with adventure,
book
today!
Begin your journey in Seattle where you can take part in the Rock N Roll Seattle Half or Full Marathon on June 13! Enjoy the rest of the day/ night exploring such an amazing city! All Aboard June 14 to head out to a ton of amazing port of calls in a place truly different than the rest of the United States.
Ketchikan is the first stop June 16. RFFC has partnered with a local running club for a morning run. Alaska's 4th largest city, Ketchikan offers salmon fishing, native totem poles at the Totem Heritage Center, visit Alaska's Rainforest Sanctuary or wander around the picturesque Alaskan town.
June 17 sail towards the Tracy Arm Fjord. The views will most definitely take your breathe away. Keep your eyes out for an array of wildlife that call the Park home including harbor seals, wolves, bears and many birds. Continue on to your next stop in Juneau. RFFC has teamed up with Ultra Marathoner Geoff Roes for a run you wont forget in Alaska's capital. Afterwards, take in a whale watching tour, dog sledding, Glacier Gardens and more in this city with an abundance of area to explore.
June 18 lands you in Skagway, a town that began with the Gold Rush. Take the railway to experience the Yukon, stay in town to learn the history of the Gold Rush, or take a flight to see the beauty of Skagway from above.
June 20 fulfills the
Jones Act
by stopping in Victoria, BC Canada. Enjoy a night time run before seeing some of what Victoria has to over. Check out the beautiful butterfly gardens or Beacon Hill Park, visit the Craigdarroch Castle, or have a drink or two at an in town pub.
In choosing the Caribbean or Alaska, you can not go wrong with a Run For Fun Cruise. The ships are beautiful, the planned activities are plentiful and the ports just WOW you.
Make sure you visit
RunForFunCruise.com
for additional information and to get any questions you may have answered. Don't forget to tell them that LIVE from the Lido Deck sent you.